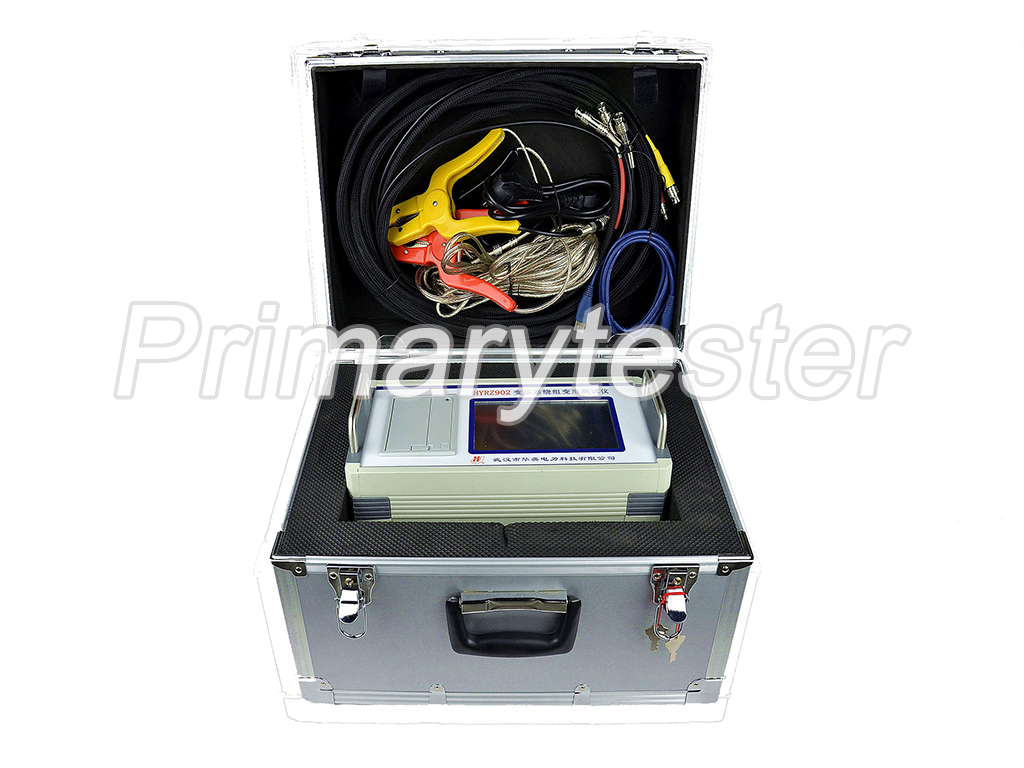 Frequency Response Analyzer HYRZ-902
Our company has designed the frequency response analyzer, which can accurately draw the frequency response curve. By measuring the horizontal and vertical contrast of the curve, the deformation of the transformer can be detected accurately.

Contact Us
Features
1. Using the advanced technical of DDS;

2. Using the high speed and advanced microprocessor to design;

3. Using double channels of AD chip of 16 bits;

4. With seven inch LCD touch screen of which the brightness can be adjusted;

5. With thermal printer of which the print thick can be adjusted;

6. It could store 40 groups of data, which could be read to current screen or upload to the PC;

7. With PC software using which we could upload data ,test, analyze data, print data, or create word document;

8. Using USB2.0 to connect to the device;

9. Tester dimension:31cm X 15cm X 15cm;

10. Weight:4.0KG;


11. The tester is conformed to the standard of DL/T911 2016 and can be used for IEC60076-18:2012.




Technical Specification
1. Different sweep modes:
Linear sweep:
10HZ-1MHZ interval 0.5KHZ 2001 dots (conform to DL/T911 2016)
10HZ-1MHZ interval 0.25KHZ 4001 dots(PC available)(conform to DL/T911 2016)
100HZ-2MHZ interval 0.25KHZ 4001 dots(PC available)
Initial frequency, interval and scan dots can be set(PC available)
Section sweep: (conform to DL/T911 2016)
10HZ-20HZ interval 1HZ 11 dots
20HZ-100HZ interval 2HZ 40 dots
100HZ -1KHZ interval 3HZ 300 dots
1KHZ-10KHZ interval 20KHZ 450 dots
10KHZ –100KHZ interval 0.3KHZ 300 dots
100KHZ – 1000KHZ interval 1KHZ 900 dots
Section sweep: (conform to IEC60076-18:2012)
20HZ-100HZ interval 2HZ 40 dots
100HZ -1KHZ interval 2HZ 450 dots
1KHZ-10KHZ interval 20HZ 450 dots
10KHZ –100KHZ interval 0.2KHZ 450 dots
100KHZ – 1000KHZ interval 2.5KHZ 360 dots
1000KHZ – 2000KHZ interval 4KHZ 250 dots
2. Test range:(-100dB) - (+20dB)
3. Test accuracy:(-40dB) - (+20dB)0.2dB
(-60dB) - (-40dB)0.5dB
(-80dB) - (-60dB)1.0dB
4. Frequency accuracy:<0.01%;
5. Signal input impedance:>1M Ω(Connected according to DL/T911 2016);
6. Signal output impedance:50 Ω;
7. In-phase test repetition rate:99.5%;
Service commitment
Pre-sale service commitments

Sale service commitments

Sale service commitments