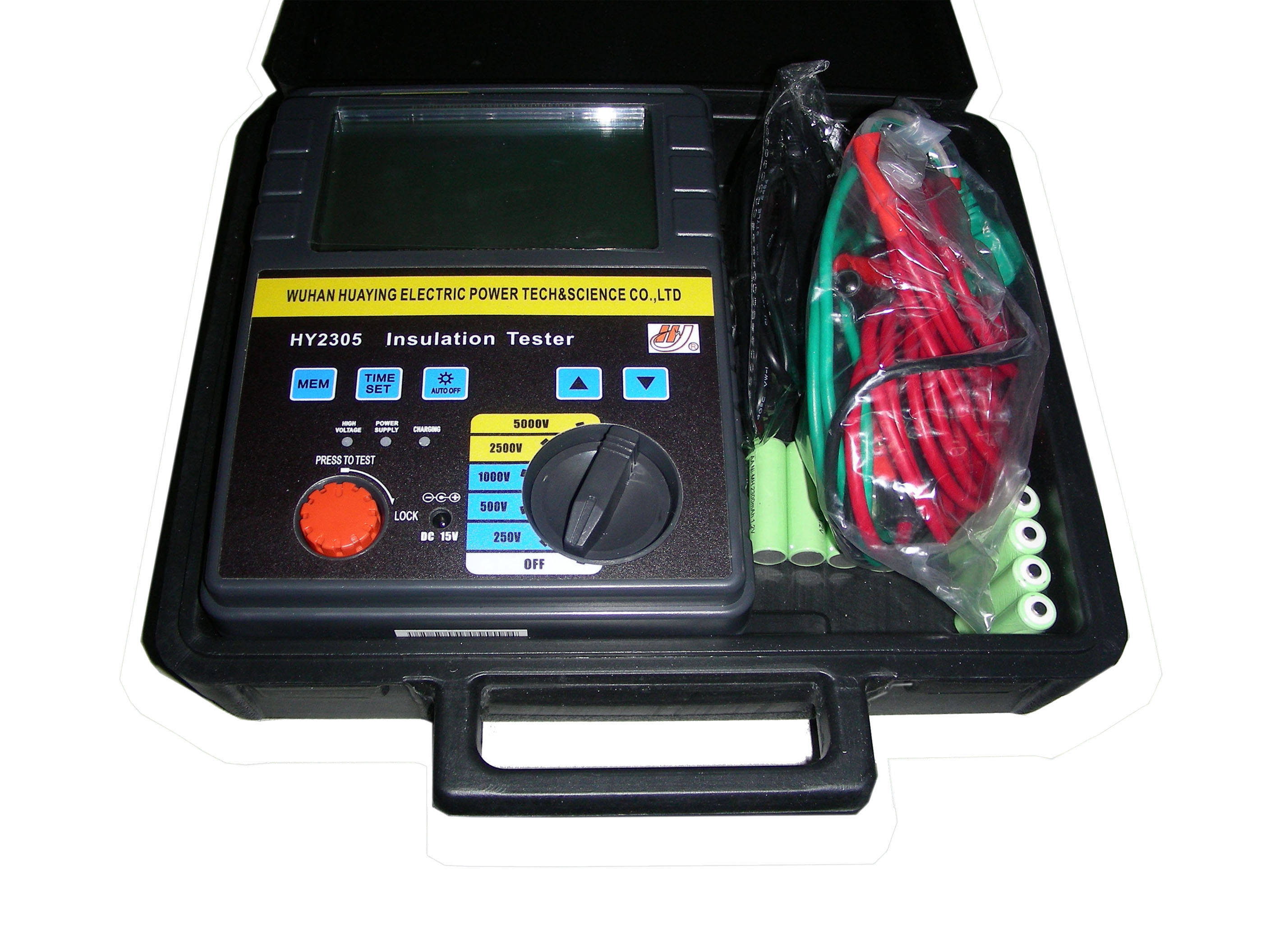 Insulation Resistance Tester HY2305
The instrument is with a variety of voltage output level (250V, 500V, 1000V, 2500V, 5000V), high capacity, strong anti-interference, the pointer and digital synchronous display, AC-DC dual-use, simple operation, automatic calculation of various insulation index (absorption ratio, polarization index). All measured characteristics have the anti-power-down function . It is the ideal tester for insulation resistance like transformer, mutual inductor, electric generator, high voltage motor, power capacitor, power cable, and arrester.

Contact Us
Features
1. There are a variety of output voltages (250V, 500V, 1000V, 2500V, 5000V). Resistance range measuring range up to 0 ~ 400GΩ. Resistance measuring range can be automatically converted, and have the corresponding instructions.


2. Insulation resistance is simultaneously displayed in two ways: change range of insulation resistance can be easily observed by mechanical pointer; digital display has measurement accurate results.

3. With embedded and real-time operation of industrial microcomputer software system, high degree of automation and anti-interference ability, equipment can be automatically calculated absorption ratio and the polarization index, without human intervention.

4. All measurement results have anti-power-down function. It can store 19 consecutive measurements.

5. The built-in residual high-voltage discharge circuit can automatically release the residual pressure to the device under test after the test is completed.

6. Suitable for AC and DC. Rechargeable battery and AC adapter are configured.

7. Meter with portable design for easy field operation.

8. High voltage short circuit current ≥ 3mA



Technical Specification
1、Measuring range and accuracy
(Temperature, humidity: 23±5℃, 45~75%RH)

Model

HY2305

Rated Voltage

250V

500V

1000V

2500V

5000V

Measuring Range

0.0~99.9MΩ
100~999MΩ\
1.00~10.0GΩ

0.0~99.9MΩ
100~999MΩ
1.00~9.99GΩ
10.0~20.0GΩ

0.0~99.9MΩ
100~999MΩ
1.00~9.99GΩ
10.0~40.0GΩ

0.0~99.9MΩ
100~999MΩ
1.00~9.99GΩ
10.0~100GΩ

0.0~99.9MΩ
100~999MΩ
1.00~9.99GΩ
10.0~99.9GΩ
100~200GΩ

Open circuit Voltage

DC 250V
+20%, -0%

DC 500V
+20%, -0%

DC 1000V
+20%, -0%

DC 2500V
+20%, -0%

DC 5000V
+20%, -0%

Short-circuit Current

Approx 3.3mA

Accuracy

±5%±3dgt

100GΩ or more
±20%
2、Operating system:Dual integration
3、Display:Liquid crystal display(Max. 9999counts)
Bar graph / Max. 31points
4、Low battery warning:Battery mark display (in 4 levels)
5、Over range indication:"----" mark appears on insulation resistance range.
6、Sample rate:approx 0.5~5 times/sec
7、Operable altitude:2000m or less above sea level
8、Temperature & humidity range (guaranteed accuracy):
23±5℃ / Relative humidity 85% or less (no condensation)
9、Operating temperature & humidity range:
0℃~+40℃ / Relative humidity 85% or less (no condensation)
10、Storage temperature & humidity range:
-20℃~+60℃ / Relative humidity 75% or less (no condensation)
11、Insulation resistance:1000MΩ or more /DC 1000V
(Between electrical circuit and enclosure)
12、Dimension:230(L) ×190(W) ×90(D) mm
13、Weight:approx 3.5kg (battery included)
14、Power source:DC15V/4A Adapter Power
Or DC9.6V: charging battery size AA×8pcs
Calibration certificate of Insulation Resistance Tester HY2305 issued by Hubei Institute of Measurement and Testing Technology
Service commitment
Pre-sale service commitments

Sale service commitments

Sale service commitments